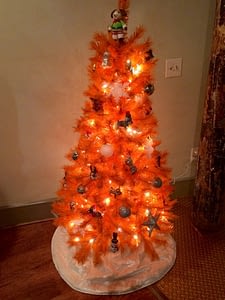 Ho, ho, ho! What is Santa bringing your dog for Christmas this year? Or, do you need eight great gifts for each night of Hanukkah? Don't sweat it – the Spring Forth team and I have got you covered. Here are some ideas to place beside the Yule Log…
Fun Food Puzzles
A food puzzle is a great way to keep your dog out of your hair this holiday season! Fill one of these great toys with your dog's kibble, and they'll take 10-30 minutes to eat a meal instead of the usual 30 seconds. Food puzzles promote good digestion and give your dog a way to burn off some excess energy.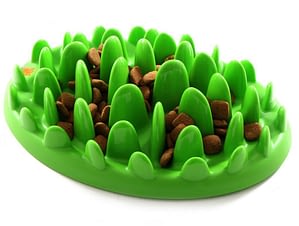 The Northmate Green Feeder is a slow-feeding bowl that is shaped like futuristic blades of grass. Simply dump your dog's food over the top of the toy and the kibble will fall into the nooks and crannies between the "grass." Your dog will forage around the toy to collect every bit of food. Unlike many other food-dispensing toy, the Green Feeder works great with canned food, The Honest Kitchen, and raw diets, too!
This dishwasher-safe toy comes in 2 sizes. Small is perfect dogs under ~25lbs or larger dogs with narrow snouts, like Whippets and small Collies, and Large is great for all other dogs.
The PetSafe Twist N Treat is a versatile food-dispensing toy that is perfect for leaving in the crate with your puppy. You can easily adjust the difficulty level by twisting it tighter or leaving it open. Unlike some other food-stuffable toys, you can either fill the Twist N Treat with kibble or line it with something gooey, such as canned dog food, peanut butter, cream cheese, or liverwurst for an added challenge.
The Twist N Treat is made of a slightly softer rubber than many other dog toys on the market, so we don't recommend it for "power chewers," but it's rare that one of our Day School dogs manages to do damage to it.