Dog Training Events & Seminars in Providence, RI
Be sure to check out our Workshops, too. They're like mini events!
Canine Good Citizen Test: Saturday, April 18th at 9AM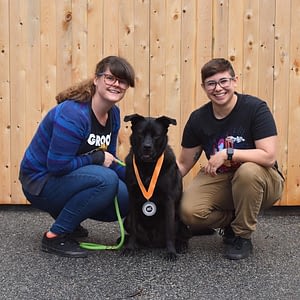 Join us Saturday, April 18th for an AKC Canine Good Citizen (CGC) testing event! All breeds and mixes are welcome. Pre-registration is required, and this event will be limited to 15 dogs.
Visit the AKC website for more information about the CGC program.
AKC Community Canine (CGCA) and Canine Good Citizen Urban (CGCU) tests are also available! Your dog must first pass the CGC test to take these tests. If you would like to take both the CGCA & CGCU tests, please register twice - once for each test.
Medallions will be awarded to all dogs who pass a test at this event.
$30 per test.
Click here to register >>
Click to Calm & Control Unleashed for Canine Confidence!
A 2-day event with Emma Parsons
Saturday, October 17th & Sunday, October 18th - 9AM-4PM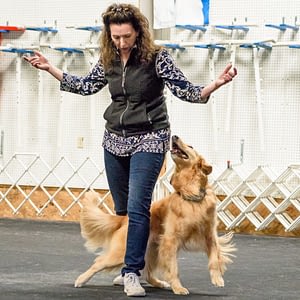 Saturday: Basic Behavior Building
Sunday: Advanced Games
This purpose of this seminar is to teach dogs to focus on their handlers in high distraction environments. These exercises are perfect for the competition dog/handler team. We will begin by reviewing the "Click to Calm" methodology (the presence of the distraction IS the cue to look at the handler) as well as work on necessary Foundation Behaviors such as the Back Up Sit, CTC without eye contact from the handler (multi-tasking), Get Behind, and Reorienting. Novel Stimulus will also be introduced and added to the exercises for complexity.
Control Unleashed exercises will also be added in: Parallel Jumping/Heeling, Car Crash Game and the "Dog In The Face." All of these are fun games geared towards teaching specific skills such as acclimating dogs to the movement of other dogs and people, navigating small spaces in public areas safely and teaching dogs to better tolerate the situation where dogs "meet" head to head.
Stay tuned for tuition info & online registration!