Dog Training Events & Seminars in Providence, RI
Be sure to check out our Workshops, too. They're like mini events!
Canine Good Citizen Test: Sunday, October 4th at 9AM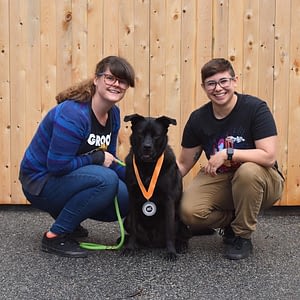 Join us Sunday, October 4th for an AKC Canine Good Citizen (CGC) testing event! All breeds and mixes are welcome. Pre-registration is required, and this event will be limited to 15 dogs.
Visit the AKC website for more information about the CGC program.
AKC Community Canine (CGCA) and Canine Good Citizen Urban (CGCU) tests are also available! Your dog must first pass the CGC test to take these tests. If you would like to take both the CGCA & CGCU tests, please register twice - once for each test.
Medallions will be awarded to all dogs who pass a test at this event.
$30 per test.
Click here to register >>
Tricks & Treats Halloween Event: Saturday, October 31st
At Crossbones, we LOVE Halloween, and we LOVE our clients! So, we're putting together a free Halloween-meets-client-appreciation-party the morning of the 31st. Join us for doggie trick-or-treating, fun activities, take-home crafts, free samples, bingo (Katherine's favorite!), giveaways, and exclusive promotions in our retail store!
Registration Details
To keep this event COVID-compliant, pre-registration is required. When you register, you'll choose a time slot to attend. Each registration allows two people and one dog to attend, just like Flex Classes.
October 2nd through October 4th: Early access registration to currently enrolled Puppy Day School & Educational Daycare clients
Starting October 5th: Registration is open for all clients who have come to Crossbones in the last year
All dogs attending the event must have up-to-date rabies, parvo, and distemper vaccinations on file here at Crossbones.
We encourage festive collars and bandanas! Costumes are welcome if your dog enjoys wearing theirs. (We want to make sure all of the dogs are having fun.)
Treat this event as a training class. Your dog wears a harness and leash no longer than 6' long, and you wear a face mask, a clicker, and a treat pouch stuffed with excellent treats! (No retractible/Flexi leads, prong/choke/shock collars, or on-leash greetings.) This will set you and your pup up to have a great time.
This event is FREE!
Click here to register >>