Upcoming Events at Crossbones
Are you new to Crossbones Dog Academy? We're located just 5 minutes off I-95 in Providence, RI – a couple blocks away from "Nibbles" the Big Blue Bug! We have a climate-controlled indoor training facility including a 75×45′ training hall with GreatMats agility flooring plus adjacent crating spaces. We have ample off-street parking for our guests.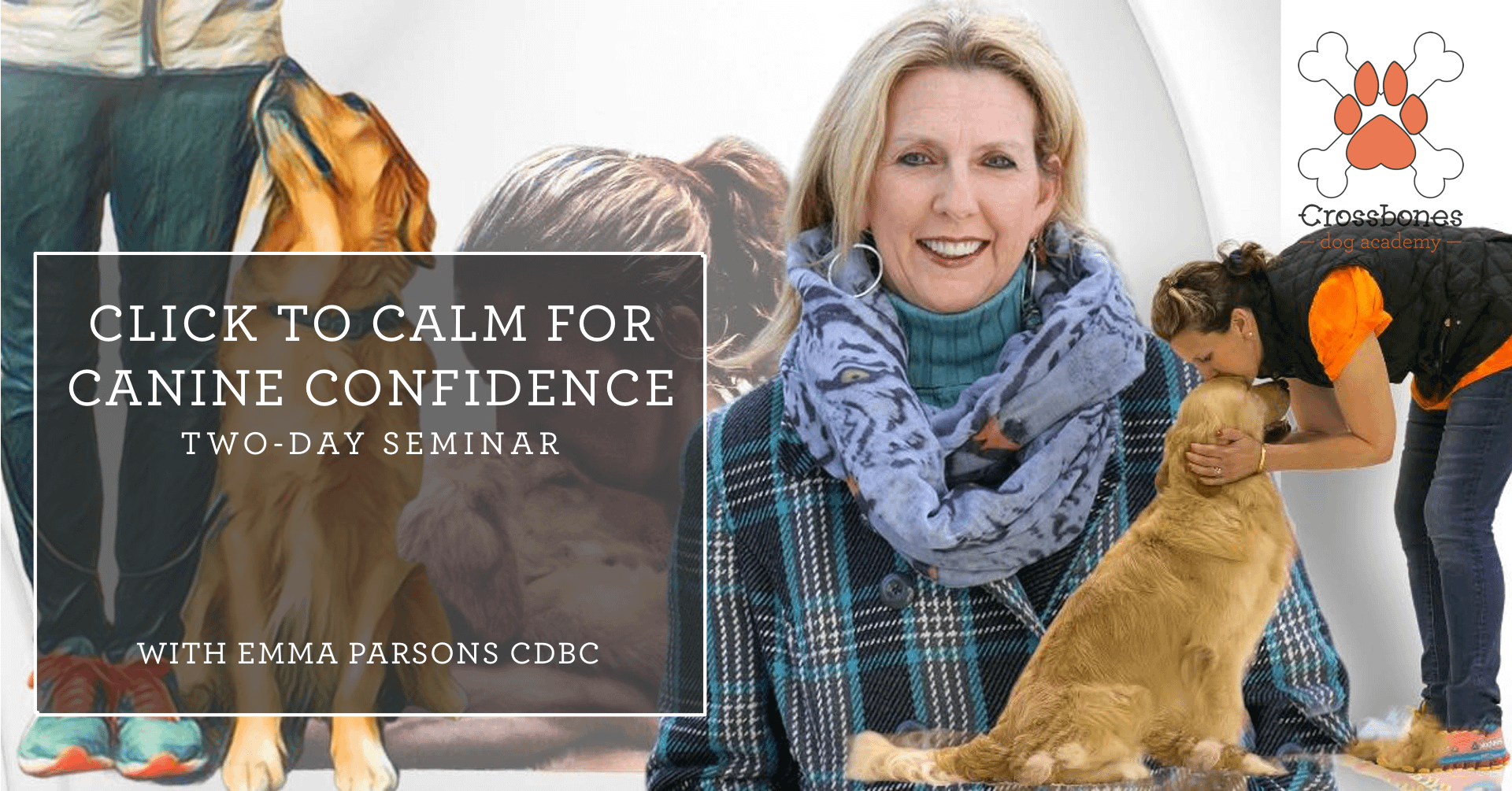 The purpose of this seminar is to teach dogs to focus on their handlers in high distraction environments. These exercises will be perfect for the competition dog and handler team.
We will begin by reviewing the new Click to Calm protocol (the presence of the trigger IS the cue to look at the handler) as well as work on necessary Foundation Behaviors such as the Back Up Sit, Get Behind and Re-orienting. We will also explore the role eye contact plays when building certain behaviors.
Faulty behavior chains will also be explored: how the handler thinks they are helping the dog, while in fact, it is creating more destructive behavior.
Fun games will be played towards teaching specific skills like acclimating dogs to the movement of other dogs, (Parallel Jumping or Heeling) navigating small spaces in public areas safely (Follow the Leader) and teaching dogs to better tolerate the "head to head" movement towards other dogs. (Musical Chairs or Magical Hoops) Novel stimuli will be used to add complexity to the exercises.
CEUs pending.
Saturday, June 10th & Sunday, June 11th
9AM to 4PM
Working Spot: $375 + tax, limit 8. Click here to register!
Auditing Spot: $175 + tax, limit 20. Click here to register!
About the Instructor: Emma Parsons, CDBC, KPA Faculty
Emma Parsons is currently a Canine Behavior Training Consultant at Gemini Dogs in Littleton, MA as well as owning her own business, Emma Parsons, LLC. She specializes in managing and rehabilitating the reactive and aggressive dog and has authored three books on the subject. Emma also works with agility competitors who are having emotional difficulties with their dogs. Emma is a faculty member of Karen Pryor Academy for Animal Training & Behavior (KPA-CTP) as well as of the Karen Pryor Clicker Expo conferences. She is also certified by the International Association of Animal Behavior Consultants. (CDBC).
She taught reactive dog classes for twelve years at Masterpeace Dog Training in Franklin, MA.
Emma holds a BA degree from the University of Massachusetts Lowell, and shares her life with her husband, Greg, and their three clicker-trained competition dogs—two Golden Retrievers, Austyn-Roque and Spirit-Rayne, and a Border Collie, Joshua Lee Hunt.