Dog Training Events & Seminars in Providence, RI
Be sure to check out our Workshops, too. They're like mini events!
Canine Good Citizen Test: Sunday, October 4th at 9AM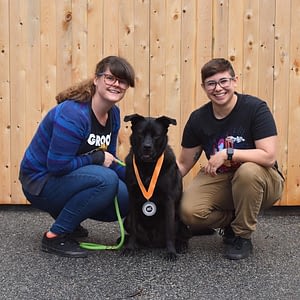 Join us Sunday, October 4th for an AKC Canine Good Citizen (CGC) testing event! All breeds and mixes are welcome. Pre-registration is required, and this event will be limited to 15 dogs.
Visit the AKC website for more information about the CGC program.
AKC Community Canine (CGCA) and Canine Good Citizen Urban (CGCU) tests are also available! Your dog must first pass the CGC test to take these tests. If you would like to take both the CGCA & CGCU tests, please register twice - once for each test.
Medallions will be awarded to all dogs who pass a test at this event.
$30 per test.
Click here to register >>