Upcoming Events at Crossbones
Are you new to Crossbones Dog Academy? We're located just 5 minutes off I-95 in Providence, RI – a couple blocks away from "Nibbles" the Big Blue Bug! We have a climate-controlled indoor training facility including a 75×45′ training hall with GreatMats agility flooring plus adjacent crating spaces. We have ample off-street parking for our guests.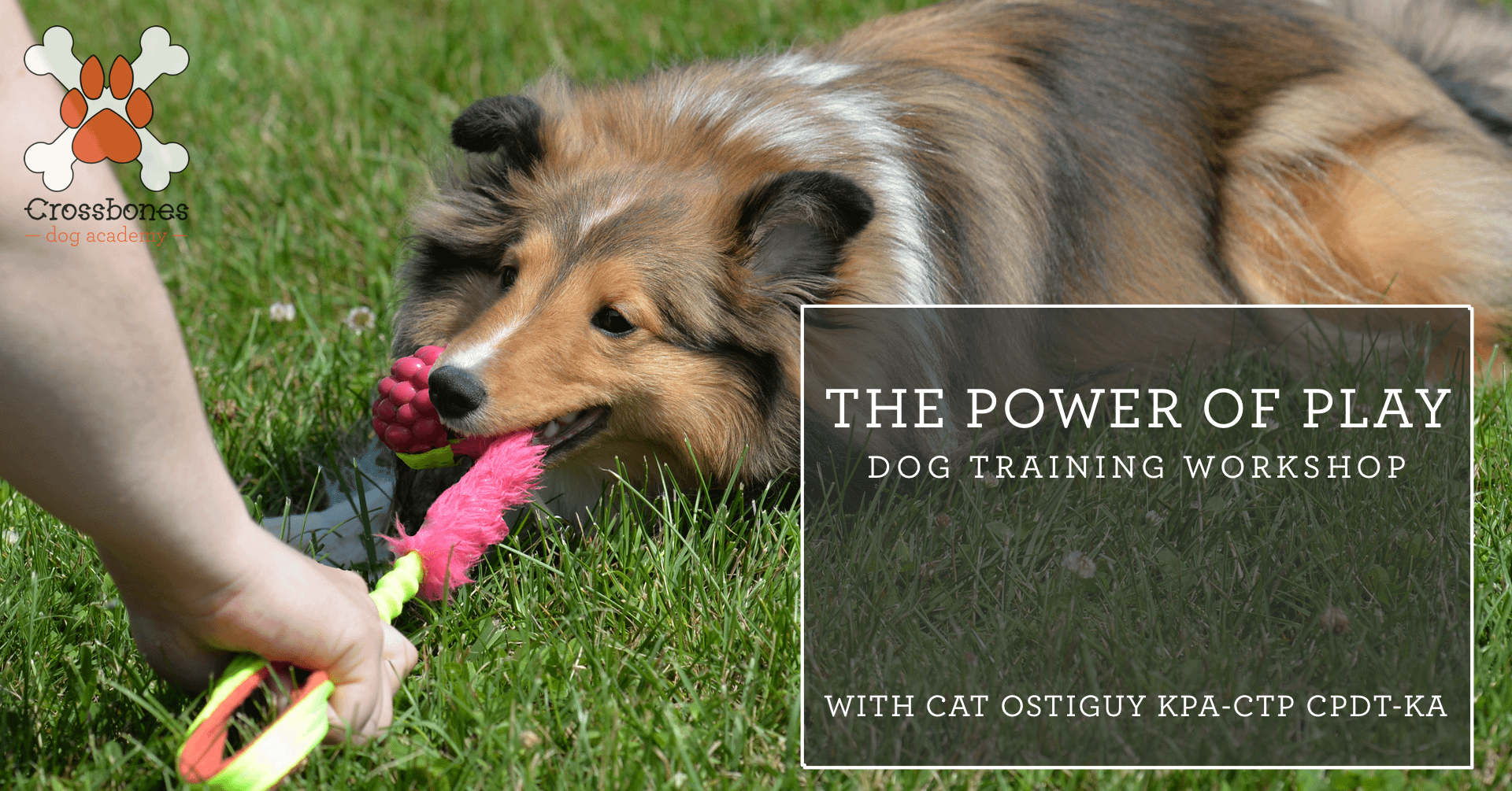 February 10 @ 5:30 pm

-

7:30 pm
Do you struggle with recalls or loose leash walking outside because your dog is interested in critters? Do you already play fetch or tug but want to supercharge that skill and use it to build STRONG behaviors and FAST responses? Do you have a puppy and want to have a variety of ways to reward her for correct behavior, all while building your relationship together?
In this workshop, you'll learn to develop tug, fetch, & "personal play" (using your body & charming personality to play with your dog rather than a toy) with your dog, and how to use these games to build & reinforce behavior in your dog.
This workshop is primarily lecture-based. Working spots include 2 short turns playing in the training hall with coaching from Katherine.
WORKING spot (limit 5): $80 + tax or 2 Flex Class credits. Register here!
AUDITING spot (limit 8): $30 + tax or 1 Flex Class credit. Register here!
About Our Workshops
Our workshops are focused, detailed two-hour training sessions that combine lecture time and hands-on dog training. You and your dog will not only make progress during the workshop, but will also leave with a greater understanding of dog training and a clear path toward continued improvement.
Workshops are limited to just 5 working spots, $80 + tax or 2 Flex Class credits.
Auditing spots are available for $30 + tax or 1 Flex Class credit. You must preregister online. Workshops are 2 hours long. We teach for 45 minutes, then pause for a 15 minute break, teach for another 45 minutes, and then finish with a 15 minute "Q&A" period.
Are you new to Crossbones Dog Academy? Workshops are fast-paced and we need all attendees (dog & human!) to have the same foundation knowledge. If you have never taken clicker training group classes with your dog before, you must attend an Orientation class prior to registering for a workshop. If you have taken similar classes elsewhere, please contact us and let us know where you have trained prior to registering.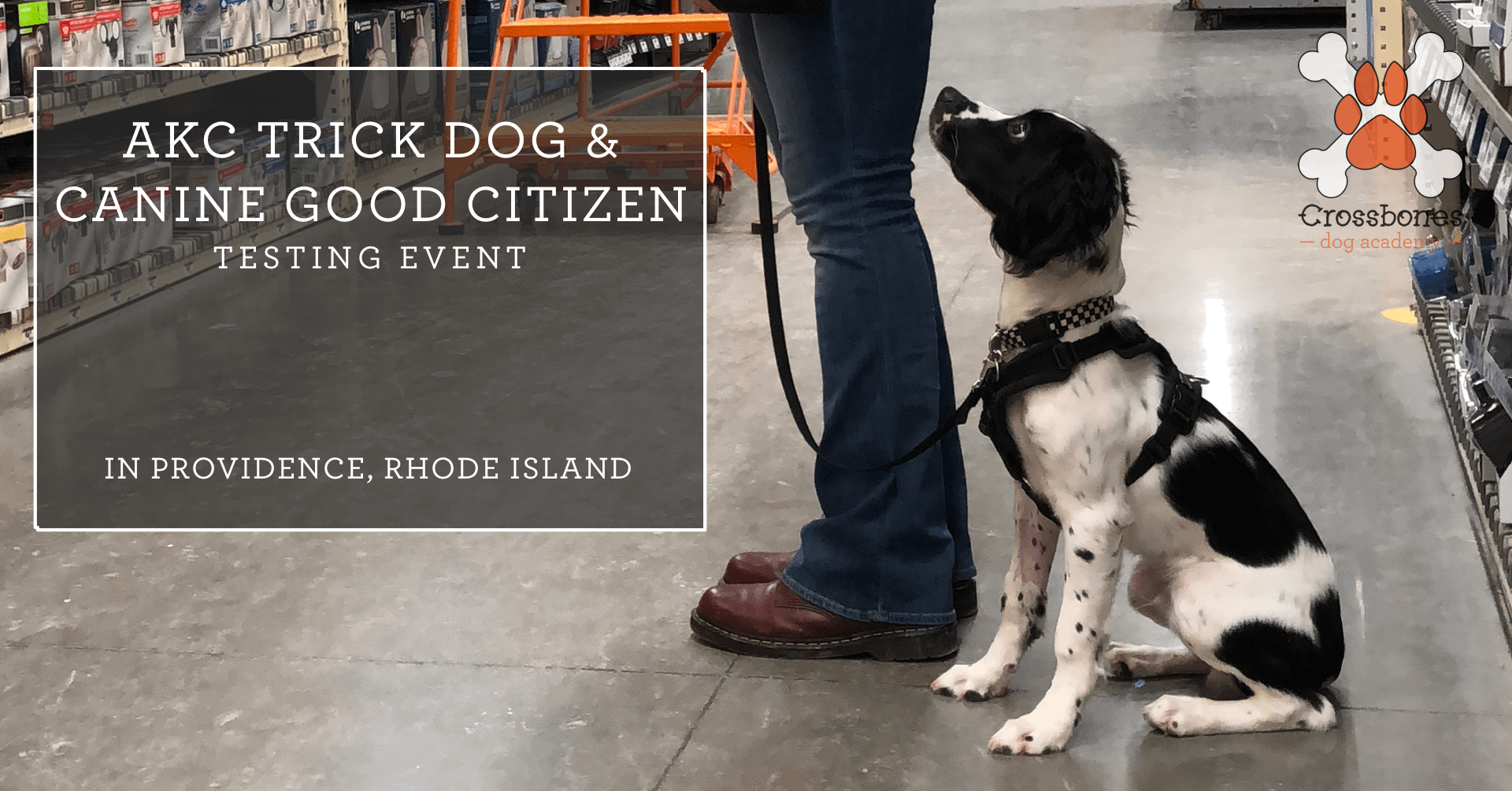 March 13 @ 4:30 pm

-

8:00 pm
Join us Monday, March 13th for an AKC Canine Good Citizen & Trick Dog testing event! All breeds and mixes are welcome. Pre-registration is required, $30 per test.
We are offering all levels of Canine Good Citizen testing (CGC, Community Canine/CGCA, and Urban/CGCU) as well as Trick Dog Testing at the Novice, Intermediate, & Advanced levels! Trick Dog testing is $30 per dog and includes all three trick levels.
Registration is done in 30-minute time blocks. Choose from 4:30PM, 5PM, 5:30PM, 6PM, or 6:30PM when you register and your test will take place during that time block.
Visit the AKC website for more information about the CGC program.
Medallions will be awarded to all dogs who pass any Canine Good Citizen test level at this event.