Maintain your dog's training
Our daycare challenges your dog's mind, not just their body.
Each day provides physical exercise, enrichment activities, socialization, and maintenance of your dog's manners training. Attendees enjoy indoor free play time, exploring a fenced-in outdoor space, crated nap time, and small group fetch or recalls in our training hall.
What does Educational Daycare include?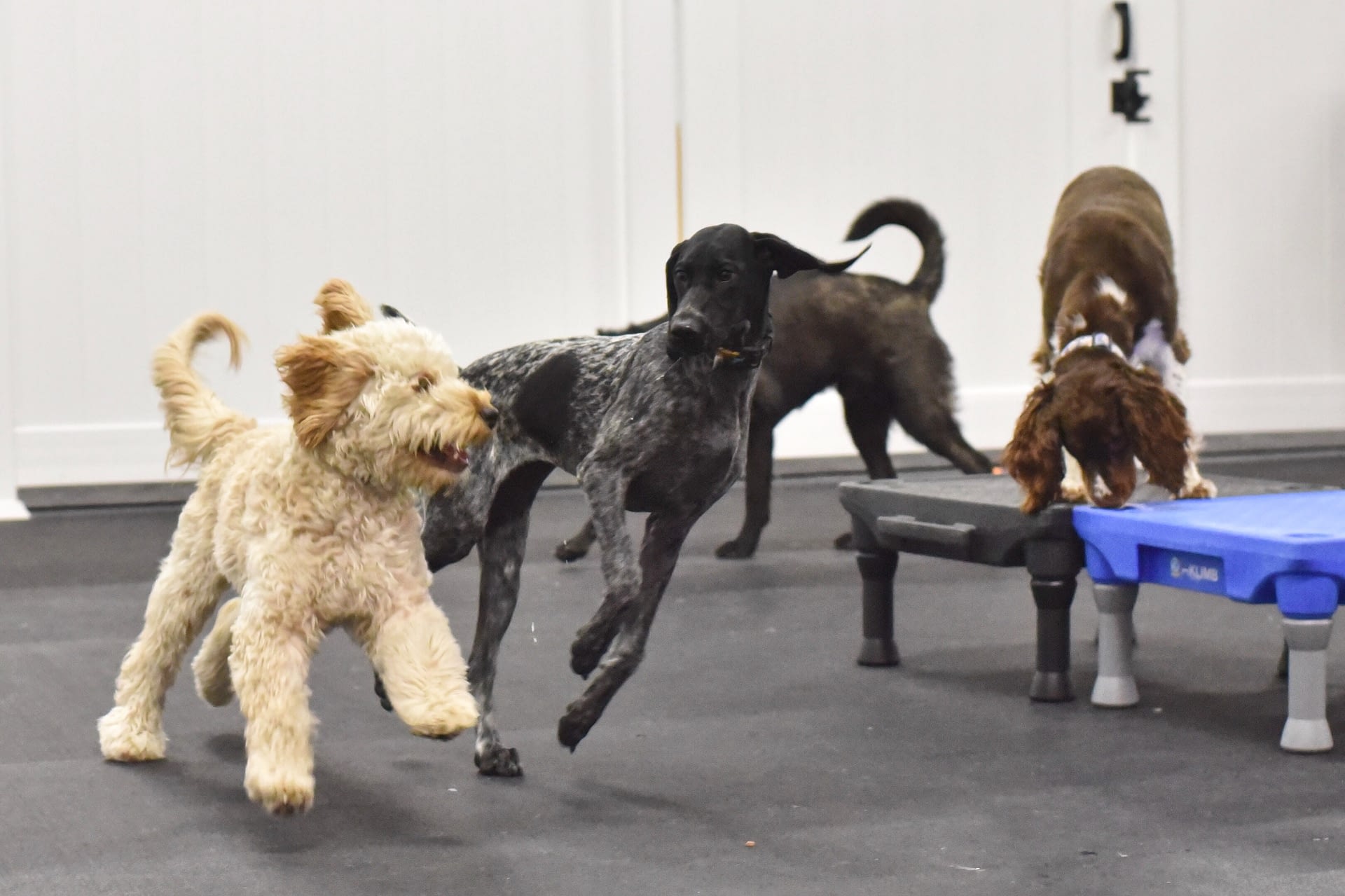 Consistency & Excellent Care
Our daycare program is designed to maintain your dog's basic manners training while providing social time, mental stimulation, exercise, and enrichment for your dog on a regular basis – at least three times a week.
If you want a safe alternative to off-leash dog parks, something more comprehensive than a stroll around the block with a dog walker, and a daycare experience that promotes polite behavior, Educational Daycare is for you!
Each day includes…
Group play with similarly-sized dogs

Regular outdoor potty breaks

Consistent reinforcement of polite behavior

Crated nap time with a chew toy

Optional add-on training sessions to grow your dog's skills
Our 8000 square foot facility was designed with your dog's comfort in mind. It includes two fenced-in indoor play areas with rolled rubber flooring to provide great traction for playtime, and a designated small dog playroom, too! Our staff will select different enrichment activities for your dog to enjoy each day, including climbing on platforms, running through tunnels, chasing bubbles, and playing in a ball pit. A variety of toys are available for your dog to play with.
We have a securely fenced outdoor yard for your dog to get fresh air throughout the day. Your dog will go outside with their playgroup, as well as one-on-one, to relieve themselves. Dogs are taken outside individually and in groups to relieve themselves outdoors – our goal is no indoor potty accidents!
Small groups & one-on-one attention
We maintain an industry-leading dog-to-staff ratio (10-to-1), ensuring your dog gets plenty of attention from our team. Our handlers carry food and will reward your dog throughout the day for good behavior, such as coming when called. Your dog will be expected to sit to earn treats, toys, petting, and permission to go through gates & doorways. We discourage barking and jumping up on staff or gates, and redirect dogs to appropriate behaviors instead.
Additionally, multiple professional dog trainers are on duty every day and are available for add-on training sessions. Your dog can enjoy one-on-one manners training sessions, neighborhood training walks, and agility or trick training sessions – just select them from our add-on menu!
Educational Policies & FAQs
Your Educational Daycare evaluation appointment will take approximately 20 minutes. A member of our canine care team will evaluate your dog's behavior in the lobby, with our team members, in one of our play areas, and finally with one or more of our dogs. We are looking for dogs who are neutral or friendly toward people, friendly toward other dogs, and are reasonably well behaved.
For more details, read our blog post What to Expect at Your Dog's Educational Daycare Evaluation.
Examples of behaviors that are not acceptable in our Educational Daycare program: attempting to climb or jump our 4′ and 6′ fences, jumping up on and clawing at people, resource guarding toys or food from other dogs, actively avoiding other dogs, excessive (more than a single instance) urine marking, any hesitation about being led by the collar, playing "keep away" when called or approached, excessive vocalization or pawing in the crate, or aggressive behavior such as snapping or biting.
Most of these behaviors can be resolved in an Intensive Training Program if your dog needs a little extra help becoming daycare ready. Your evaluator will discuss this option with you if your dog does not pass the Educational Daycare evaluation.
If you are going on vacation, we can arrange for your dog to skip a week or two during one of their 4-week Educational Daycare programs. Please let us know at the evaluation or when purchasing the renewal. We do need vacation/day off requests in writing, either via e-mail or on a printed/written note.
Crated nap time is an integral part of the Educational Daycare experience. Therefore, all dogs must be crate trained. We define "crate trained" as a dog who will go willingly into a crate when the door is open & they are led up to it and will then remain in the crate without barking, whining, pawing at the door, or chewing on the crate.
If your dog is not crate trained, we can help! Contact us for details about a private training program to address crate training.
If your dog or puppy is currently enrolled in Puppy Day School or an Intensive Training Program, they do not need an evaluation for Educational Daycare and can go straight from one program to the other if our training staff deems it appropriate.
If your dog has taken time off since attending one of these programs, or only attended classes/private lessons, your dog does need an Educational Daycare evaluation. Behavior is always changing, and the evaluation is an opportunity for us to determine not only your dog's suitability for the program, but also what playgroups they fit into and who they will likely enjoy playing with.