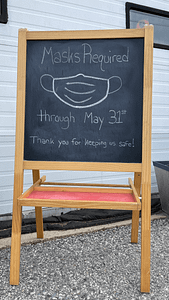 Much has changed since our last COVID-related blog post! Here is an updated summary of our services and what safety measures we currently have in place at Crossbones.
Mask & Social Distancing Policy
Everyone is required to wear masks inside Crossbones through May 31st, 2021. This will give our team members an opportunity to get vaccinated and develop immunity. As of June 1st, team members and clients may go maskless inside Crossbones in accordance with state and CDC guidelines. At this time, this means that if you are unvaccinated, you must continue wear a mask inside Crossbones even after June 1st. We will continue to socially distance during training classes and appointments. If you are in a private lesson and would prefer that your trainer wear a mask, just ask! We recognize that not everyone can be vaccinated, and that some of our clients are at higher risk for COVID, and we are happy to take this step if it makes you more comfortable.
Private Dog Training
Private dog training lessons are available for all dogs, regardless of age or behavior problem. We are currently offering private lessons at our facility, both indoors and outdoors, as well as remotely, via FaceTime or Zoom video conferencing. Due to increased demand for our services, we are no longer traveling to clients' homes for dog training appointments. Not only does this keep our team members safer, it allows us to help more dogs each day.
Flex Classes
All classes take place inside of our 8000 square foot training facility. Wednesday night manners […]