Puppy nipping is one of the most frustrating behaviors that new owners report. It hurts! But you'll see a big reduction in puppy nipping in a short period just by getting some human cooperation.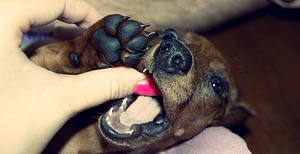 If this is a familiar sight, it's time for a new training plan! (Photo Credit: Renata Lima, Flickr)
Let's start by examining why your puppy is putting his mouth on things. I don't like to spend a ton of time pondering why a dog is doing what he's doing, but puppy nipping is such a frustrating behavior for owners that I find it helps to consider the puppy's point of view.
Beginning at a young age, puppies bite each other during play. This behavior starts before you bring your puppy home from the breeder or rescue organization. The puppies are play-fighting and learning their own strength. If they bite a littermate too hard, the other puppy will respond with a high-pitched yelp. This tells the biter to tone it down next time.
This is why a common nugget of advice is "If your puppy bites you, shriek in a high-pitched voice." This sometimes causes the puppy to stop. But sometimes the puppy thinks your noises are fascinating and bites harder next time; it gets him excited and worked up!
It just depends on your puppy… and your ability to make a high-pitched puppy yelp, something most men can't do. I prefer to use methods that work more reliably. Here is the plan we use with our clients, as well as in our Puppy Day School program.
Step One
Institute a new house rule: everyone interacting with the puppy is "armed" with a soft, biteable toy. It should be long enough […]