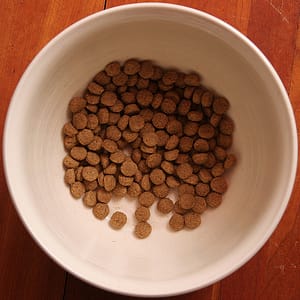 Is there always a bowl of food on your kitchen floor? If so, you're free-feeding. (Photo by JnL on Flickr.)
One of the first management recommendations I make to my clients is to stop "free-feeding" their dog. Free-feeding means leaving a bowl of dog food on the ground for hours at a time, if not all day long, rather than giving the dog regularly scheduled meals which need to be eaten immediately.
Here are some of the problems with free-feeding:
Free-fed dogs are harder to housebreak. Scheduled input of food means scheduled output of poop. If you've got a new puppy and you're free-feeding it, you're making house training infinitely harder.
It limits your dog's motivation to eat treats. When I have a new client who complains, "My dog isn't food motivated!", more often than not, they're free-feeding the dog. I tell clients this is like having a bowl full of $1 bills on the table, free for the taking, then telling your child he needs to earn his $5 weekly allowance. Why would he work when he can just grab a fistful of dollars when he wants?
You don't know if your dog's appetite has decreased. This can be a tell-tale sign of illness. When I feed my dogs, they immediately wolf down their food. If I ever put down a bowl of food and one of my dogs didn't eat, that would earn them an immediate trip to the veterinarian. Also, if your dog ever needs emergency surgery, the vet will want to know when your dog last ate. If you're free-feeding, that answer could be 30 minutes ago […]