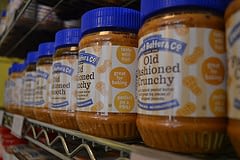 Behold! One of the most versatile dog training tools known to man. (Photo Credit: Victoria Chilinski)
What's your favorite training tool? Dog trainers are always looking for the latest and greatest items to add to their bag of tricks. My answer can be found at any supermarket or convenience store: peanut butter!
For Agility Dogs
My passion for peanut butter began while attending agility classes with Tessie. She is a whiner, and would anxiously await her next turn on the equipment by making all sorts of strange noises. Springers are capable of making some pretty bizarre sounds and Tessie is no exception. (We call her the canine tea kettle.) A PB-stuffed Kong kept her quiet and relaxed while waiting in her crate.
Later in her agility career, I discovered that Clean Run sells refillable squeeze tubes. By filling one with peanut butter, I could keep Tessie's focus ringside. This was something I struggled with because Tessie doesn't enjoy tugging away from home. (Canned dog food works really well in squeeze tubes, too!)
For Reactive Dogs
My next great peanut butter discovery came while working with our puppy Finch. He is reactive towards people and other dogs. Finch strongly prefers playing with toys over eating treats, especially outdoors, which is where he sees his triggers. PB was the answer. It was valuable enough to him that he would take it while working outside. I also use crunchy peanut butter to disguise his pills — the broken pill pieces blend right in with the nut chunks!
I think that there is more to this than enjoying a tasty snack, though. My theory is that the act of licking is calming to […]