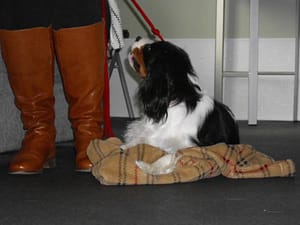 Cricket has been taught to lie on her mat using shaping.
When it comes to positive reinforcement based clicker training, there are four major ways of getting behavior: shaping, luring, targeting, and capturing. There are other ways, including physical modeling, but they have limited applications and are rarely used by most force-free trainers. In this post, I'll address shaping, and in the coming weeks, I'll follow-up with the others.
Shaping
What is shaping? Shaping is a method of building behavior "from scratch" by clicking successive approximations towards an end behavior. Often a trainer will create a mental or written "shaping plan" that lays out the steps it might take to get the final desired behavior.
One popular way to introduce shaping is when teaching a dog to get on a mat. The goal behavior is that the dog lies down on the mat for an extended period.
In the beginning, the trainer will start by clicking and treating their dog just for looking at the mat. This is usually followed by sniffing the mat, brushing up against it, or putting a paw on it, all of which can also be clicked. After the dog has received several rewards for interacting with the mat in this way, they will start to experiment just a little, often by purposefully putting a paw or two on the mat. Click!
From there, the trainer waits for the dog to put three or four of her paws on the mat before clicking and treating. When the dog demonstrates an understanding of "paws on the mat = treat", the trainer patiently waits for the dog to offer a sit […]