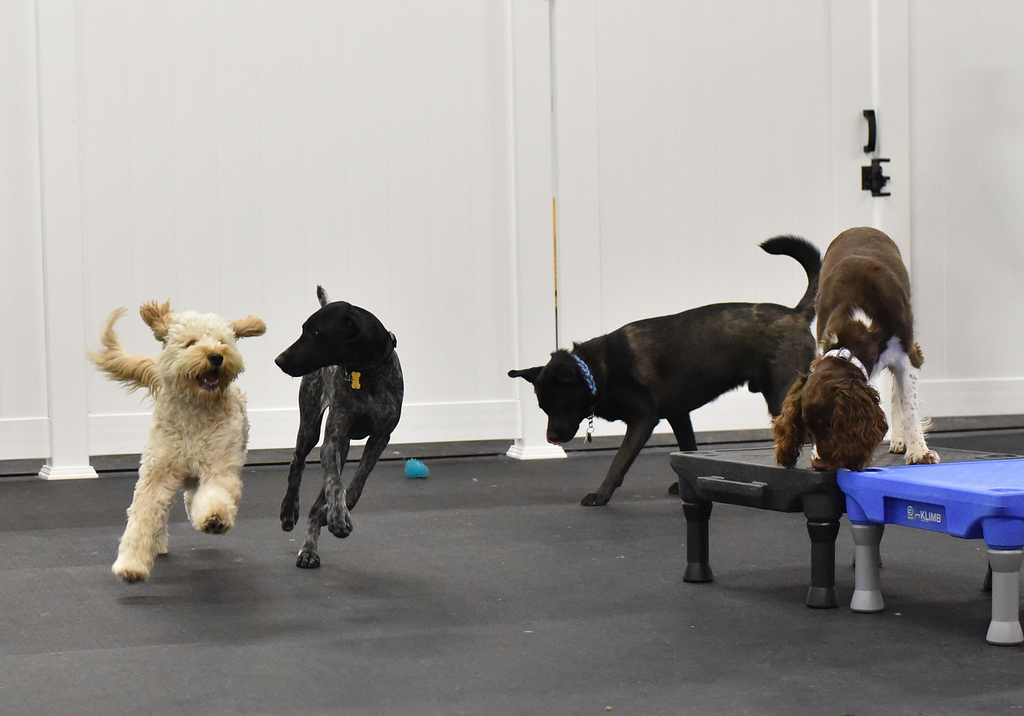 After four years of offering Puppy Day School for puppies in Providence, we're thrilled to announce we now offer daycare for all dogs! Our Educational Daycare program launched April 1st and our team is having a blast working with the dogs each day.
What is Educational Daycare?
What does Educational Daycare mean? Each dog in our program is expected to demonstrate basic manners every day, like sitting for attention and to go through gates, and sitting or hand-targeting for rewards. As a result, dogs don't practice undesirable behavior, like jumping on gates or people or excessive barking. (If your dog struggles with these skills, refresh them first. For example, you could practice around other dogs in Flex Classes. Or, have us do the training for you in an Intensive Training Program.)
We maintain a low dog-to-handler ratio (10-to-1) so your dog gets plenty of one-on-one attention. Our handlers use positive reinforcement with the dogs they supervise. No spray bottles or rattle paddles here! Dogs in Educational Daycare rotate between different activities. They include crated nap time, exploring a fenced-in outdoor space, indoor play time, and small group fetch or recalls in our training hall.
Is Educational Daycare right for me?
This program is not for everyone. Educational Daycare is for owners who are committing to having us provide social time, mental stimulation, exercise, and enrichment for their dogs on a regular basis. It's a safe alternative to off-leash dog parks and more comprehensive than a stroll around the block with a dog walker.
Does your dog like people and other dogs? Dogs attending Educational Daycare should be social or neutral toward other dogs and friendly with people. If not, this program won't be a good fit for your dog.
Educational Daycare is not a training program. Our staff maintains training you have already completed, but does not teach new skills. (However, that's something we offer in Intensive Training Programs.) Also, all dogs need to be comfortable in a crate so they can rest up during nap time.
If you're looking for a place to drop your dog off once or twice a month, that's not something we offer. Educational Daycare is for owners who understand that dogs need consistent socialization and exercise. And if you're looking for the cheapest place in the city to get your dog out of the house for the day, we aren't it. We pride ourselves on paying our employees a living wage.
Get Started
Are you ready to try our refreshed approach to dog daycare? Come join us! To get started, book an evaluation online. Or, if you have any questions, contact us!