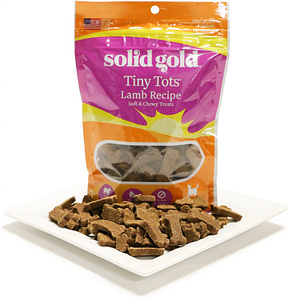 From time to time, we get an opportunity to test drive a new dog product. This time around, we were sent a bag of Solid Gold Tiny Tots, which are described by the manufacturer as a "lamb jerky" dog treat.
The first thing I noticed after opening the bag of Tiny Tots (which contains 10oz of treats – not bad!) was the smell. These treats have a very particular scent. I don't know how to describe it, but it does not remind me of lamb at all.
These treats are soft and extremely easy to break up with your fingers. Each bone breaks up into 5-7 little pieces. Since I train so many little dogs, this is much appreciated! The treats are a little crumbly, but it's not excessive.
So how did they like them?
All of the dogs I offered Tiny Tots to loved them, but me? Not so much. This scent, unfortunately, lingers on your hands and in your pockets or treat pouch. After all these years training dogs, it doesn't take much to make me self-conscious, but I was concerned that my clients would be bothered by the leftover odor.
All five of my personal dogs can and will eat these treats, which is sort of a miracle. I have one dog who doesn't do well with poultry, and once dog who is quite allergic to beef, and another who is picky as all get-out. But all of them enjoyed these treats! For that reason, I'll probably keep a bag in the house… but not at the Academy where my clients might smell them. ;)
The fine print
Solid Gold's website states that all of their treats are made in USA from USA sourced ingredients, so this is a great choice for owners who will not purchase foreign-sourced pet products.

This month's product review is brought to you by the folks at Chewy.com. They provided the product reviewed in this blog post for free. If you like to order pet supplies online, look no further! Chewy.com offers free shipping over $49 and competitive prices on dog food.