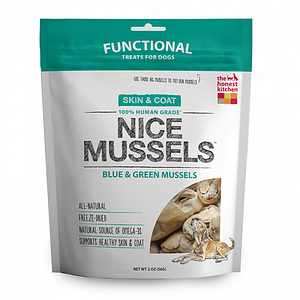 This week, my dogs got to test out the latest freeze-dried product from The Honest Kitchen, and it's definitely different from any treat we have tried before! Their latest and greatest treat is Nice Mussels. As the name suggests, they're, well, mussels! (Full disclosure: we received free product in exchange for a review.)
Nice Mussels contain only one ingredient: mussels. Mussels are "rated by the Monterey Bay Seafood Watch Program as one of the most sustainable seafood products in the world," according to The Honest Kitchen. They're naturally full of Omega-3s, which means they are great for your dog's skin and coat.
Like all THK products, Nice Mussels are 100% human-grade. They come in a 2oz package. Each bag is a mix of blue and green mussels, and our dogs didn't seem to notice a difference between the two.
All five of my dogs loved these treats! Spark and Match are generally not too enthusiastic about seafood, but they went bananas for these. I broke them up into small pieces and used them for training sessions the other night. They did crumble a bit as I broke them up, but it wasn't too problematic. The dogs wanted these treats so bad that it was definitely a test of their self-control!
I was concerned that these treats might have a strong odor, but I'm pleased to report that I didn't detect an odor from these unless I stuck my nose in the bag. While training, I couldn't detect anything at all. The treats left no scent on my fingers afterwards. If your dog loves fish treats but your nose doesn't, you need to check out Nice Mussels.