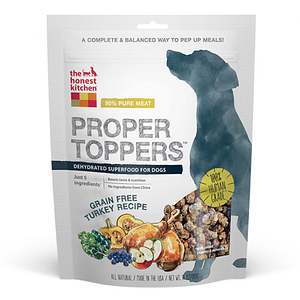 It's no secret that we are big fans of The Honest Kitchen, the only human-grade pet food company in the USA. A few months ago, we found out about their new product in the works: Proper Toppers, gently dehydrated "superfood clusters" you can add to your dog's food. Or, better yet: you can give them as a treat! I knew I wanted to be first in line to test out this great new product. (Full disclosure: we received free product in exchange for a review.)
These Proper Toppers contain the five ingredients, pictured on the front of the bag – turkey or chicken (we tested the turkey formula), apples, pumpkin, chard, and blueberries – as well as a vitamin and mineral blend.
They are a great treat for dogs with food allergies since there are so few ingredients. Bonus: just like everything else The Honest Kitchen makes, there are no sketchy preservatives or colorings to worry about!
If you feed raw or grain-free, and you're looking for a great replacement for "dog biscuits," look no further because this is it. I kept the bag on my kitchen counter and doled them out a couple times per day. Our English Springer Spaniel, Finch, is picky about the texture of his food, but he loved the crunch of these and was eager for more.
All five of my dogs enjoyed these treats. Spark does not like crunchy food, but these great little tidbits (about the size of the tip of your finger) can be splashed with warm water and turned into a softer treat. Proper Toppers don't disintegrate when wet, so even when rehydrated, they're easy to use for training.
Because vitamins and minerals have been added, these are a "complete treat" that will not unbalance your dog's diet. This is a topic that comes up in my training classes often. Owners are understandably concerned about allowing treats to make up too much of their dog's daily food intake. (Always check with your veterinarian, but our vets tell us ~20% of the diet as treats is okay.)
With so many ways to use them, Proper Toppers are a great addition to your dog's pantry. Give them as a snack, feed them when you run out of dog food, mix them into your dog's kibble for a little bit of variety, or rehydrate and use as training treats. The choice is yours. Check 'em out!