Adopting a new dog is a very exciting time for you and your new friend. The biggest mistake that new dog owners make is giving the dog too much freedom, too soon. By setting some ground rules as soon as you bring your dog home, you can prevent bad behaviors from starting in the first place.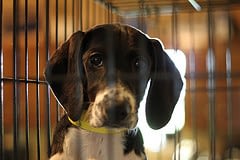 Follow some simple guidelines when you bring your new dog home, and things will go much more smoothly. (Photo Credit: Ian Phillips)
Introduce the dog to the house slowly. Giving your dog complete access to the entire house is setting yourself up for failure. The dog can easily sneak off and discover how much fun it is to steal shoes from your closet, pull tissues from the trash can in the bathroom, or pee on the rug in the spare bedroom.
Instead, use x-pens or baby gates to limit the dog's access to most rooms of the house. Start off by giving him access to the living room, kitchen, and dining room, and then gradually add a room at a time over the course of a week or two.
Don't make assumptions about the dog's past. Typically, fearful behaviors point to a lack of socialization, not abuse. If your new dog is afraid of men, it's unlikely that she was abused by one — it's far more likely that she was raised by a woman and didn't meet many, if any, men as a young puppy. Take it slow, and if your dog is showing significant fear, contact a dog trainer to help you develop a training plan to address those fears in a humane fashion.
If the dog was at a shelter and […]