There are so many choices when it comes to adding a new dog to your household. There are hundreds of breeds to choose from, not to mention the thousands of wonderful dogs in shelters across the country. If you have never had a dog before, or haven't had one since childhood, it can be overwhelming! Here are some things to consider when adding a dog to your family.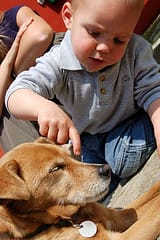 Not all dogs would be so tolerant of this child's advances! (Photo Credit: Giulio Nepi)
Do you have children? Dogs weighing less than ten pounds are not recommended for homes with very small children as they will not handle roughhousing well.
Terrier breeds can get nippy with small children due to their heightened "prey drive" – they have a strong desire to go after small, fast moving things that make high pitched noises. Toddlers fall into that category. For that reason, I also don't recommend terriers for households with small pets.
When choosing a dog for a home with young children, consider a medium to large sized dog with a stable, easy-going, happy-go-lucky temperament. Labrador Retrievers and Golden Retrievers, and mixes of those breeds, are popular choices because they tend to fit this description.
If you are a busy parent, consider adopting or purchasing an older puppy or an adult dog. Puppies require lots of socialization and training, and most working parents are just too busy to add that to their to-do list.
Consider the dog's energy level and compare it to yours. If you are busy and don't have a lot of time to be active with your dog, consider a smaller laid back dog like a Bassett Hound or some of the larger toy […]