Coming when called is a behavior that dog owners almost universally desire. A great recall means the difference between participating in a lot of fun activities – such as romps on the beach, playing at the dog park, hiking off-leash in the woods, competing in dog sports – and sitting on the sidelines. We get asked about it so often that we have a class, Come This Way, devoted to building and maintaining this skill!
It is also the behavior that dog owners take for granted in their new puppies, or inadvertently punish by making simple mistakes. Building a strong recall means avoiding these common pitfalls and maintaining a specific, positive association in your dog's mind to his recall cue.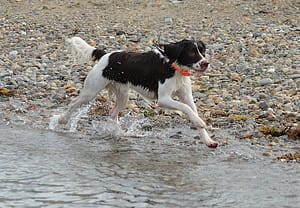 My Name = AWESOME!
Imagine how most dogs react when they hear a potato chip bag crinkle. They stop what they're doing and come flying into the room! Hearing that sound is the highlight of their day. THAT is the response you want to your dog's recall word.
The response to the crinkle sound is so strong because the potato chip bag almost always means a salty, oily, tasty special snack, and it definitely never means playtime is over, nail trimming time, or some other form of discomfort.
Recalls always need to be a positive experience for your dog. Be sure not to call him if you have to do something he doesn't like. Common examples of things that are punishing to dogs include bringing him back inside when he'd rather be playing in the yard, calling him to groom him […]