In our Day School program, we go through a lot of dog treats! During our busiest weeks, it is not uncommon for us to use 10 pounds or more. We're always looking for the fastest and most cost-effective ways to prepare and store this much food in our training studio.
When it comes to food rolls, we have this down to a science. We recommend and sell Happy Howie's treat rolls. Happy Howie's rolls are way less crumbly than other rolls on the market, which is why they are our favorite. These are 1- or 2-pound chubs of semi-soft dog treats which you can chop up or tear chunks off to give to your dog. Because you take care of the cutting yourself, these treats are very inexpensive per-pound.
Chop Treats in 5 Minutes or Less
Here's how we process the 2-pound Happy Howie's treat rolls at the Academy in just 5 minutes or less.
1. Unwrap the roll. While a pair of scissors works just fine to snip the plastic open, we use a pair of large dog nail clippers.
2. Slice the roll into discs. We usually aim for 1/4″ thickness – these are a bit thick.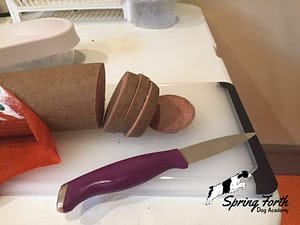 3. Place one disc at a time on to the cutting portion of your Vidalia Onion Chopper.
"Wait, what?"