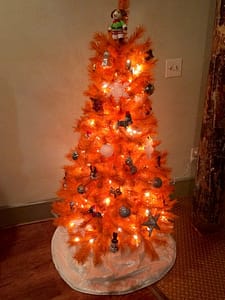 Ho, ho, ho! What is Santa bringing your dog for Christmas this year? Or, do you need eight great gifts for each night of Hanukkah? Don't sweat it – the Spring Forth team and I have got you covered. Here are some ideas to place beside the Yule Log…
Fun Food Puzzles
A food puzzle is a great way to keep your dog out of your hair this holiday season! Fill one of these great toys with your dog's kibble, and they'll take 10-30 minutes to eat a meal instead of the usual 30 seconds. Food puzzles promote good digestion and give your dog a way to burn off some excess energy.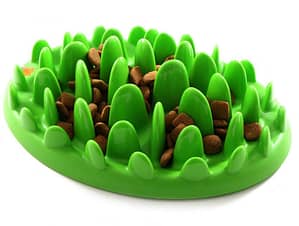 The Northmate Green Feeder is a slow-feeding bowl that is shaped like futuristic blades of grass. Simply dump your dog's food over the top of the toy and the kibble will fall into the nooks and crannies between the "grass." Your dog will forage around the toy to collect every bit of food. Unlike many other food-dispensing toy, the Green Feeder works great with canned food, The Honest Kitchen, and raw diets, too!
This dishwasher-safe toy comes in 2 sizes. Small is perfect dogs under ~25lbs or larger dogs with narrow snouts, like Whippets and small Collies, and Large is great for all other dogs.
The PetSafe Twist N Treat is a versatile food-dispensing toy that is perfect for leaving in the crate with your puppy. You can easily adjust the difficulty level by twisting it tighter or leaving it open. Unlike some other food-stuffable toys, you can either fill the Twist N Treat with kibble or line it with something gooey, such as canned dog food, peanut butter, cream cheese, or liverwurst for an added challenge.
The Twist N Treat is made of a slightly softer rubber than many other dog toys on the market, so we don't recommend it for "power chewers," but it's rare that one of our Day School dogs manages to do damage to it.
Toys, Toys, Toys!
Zippy Paws Donutz are perhaps the most under-rated soft toy on the market. They are so much fun!
These stuffing-less toys are made up of two C-shaped squeakers, plus a small rattle, so they make noise no matter where you grab them. The seams are flat, so even determined chewers are delayed from making a hole in them. There is no tougher toy at this price point.
Donutz come in a variety of "flavors" and now two sizes – Original and Mini. (Little dogs still love the Original size, though!)
If you're on the made-in-the-USA bandwagon, you'll love the West Paw Design holiday toys we've stocked this season. Tiny Tuff Reindeer come in 2 colors – green and red – and we also have plush red Stars, too.
The stuffing in these eco-friendly dog toys is made of recycled plastic bottles. For longevity, the squeaker is sewn in so it is harder for dogs to extract. These toys are so soft and are just floppy enough that pups love to toss and shake them around!
Chews & Snacks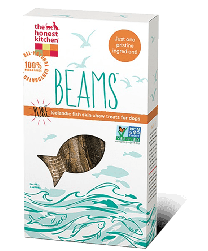 Beams by The Honest Kitchen are practically a chew and supplement combined! These human-grade, 100% wild Icelandic catfish chews are chock-full of Omega 3s, so they'll boost your dog's skin and coat while cleaning their teeth, too. Beams are high in protein and low in calories.
Beams come in two sizes – Smalls and Talls – depending on how big of a snack you want to give out. (For itty-bitty dogs, they're easily cut into smaller pieces with a sharp pair of scissors.)
We're super picky about rawhide, and the only product we give our dogs is Wholesome Hide. They're independently certified as 100% made and sourced in the United States – their supply chain is audited by a third-party, so you know it's legitimate.
Our favorite are the Knot Bones, which we carry in 3 sizes to suit most dogs. If you've got a wee pup, check out their Rawhide Twists! They're great for dogs under 15 pounds.
While you're shopping for your pup in our retail boutique, be sure to pick up a frosted holiday biscuit, too! These bakery treats come fresh from Pawsitively Gourmet in Englewood, Colorado. We've got big treats, little treats, and gift boxes for all of the dogs on your list. (Don't forget your host's dog, your coworker's dog, your BFF's dog, your neighbor's dog…)