UPDATE DECEMBER 2021: Please see the latest blog post for COVID-19 related policies.
Much has changed since our last COVID-related blog post! Here is an updated summary of our services and what safety measures we currently have in place at Crossbones.
Mask & Social Distancing Policy
Everyone is required to wear masks inside Crossbones through May 31st, 2021. This will give our team members an opportunity to get vaccinated and develop immunity. As of June 1st, team members and clients may go maskless inside Crossbones in accordance with state and CDC guidelines. At this time, this means that if you are unvaccinated, you must continue wear a mask inside Crossbones even after June 1st. We will continue to socially distance during training classes and appointments. If you are in a private lesson and would prefer that your trainer wear a mask, just ask! We recognize that not everyone can be vaccinated, and that some of our clients are at higher risk for COVID, and we are happy to take this step if it makes you more comfortable.
Private Dog Training
Private dog training lessons are available for all dogs, regardless of age or behavior problem. We are currently offering private lessons at our facility, both indoors and outdoors, as well as remotely, via FaceTime or Zoom video conferencing. Due to increased demand for our services, we are no longer traveling to clients' homes for dog training appointments. Not only does this keep our team members safer, it allows us to help more dogs each day.
Flex Classes
All classes take place inside of our 8000 square foot training facility. Wednesday night manners classes take place in our daycare play courts; all other classes take place in our 80 x 45′ training hall. This allows for plenty of social distancing. Guests may attend classes with you; note that our chaperone policy for children under the age of ten is still in effect. Children under the age of ten must be accompanied by another adult who is not handling the dog in class.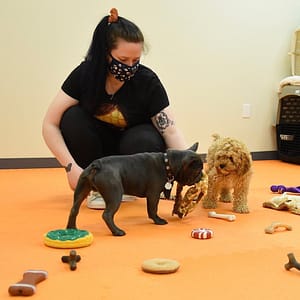 Puppy Day School
Social distancing continues to make it challenging for puppies to get positive socialization experiences with new people and other puppies at this time. Puppies have a critical socialization period, and it can't be put on hold – not even during a pandemic. Our Puppy Day School program is actively enrolling new students. Currently, there is a 2-4 week wait for a start date.
Puppy Day School evaluations and the included weekly Puppy Teacher Conferences (30-minute private appointments with one of our trainers) may take place in person at our facility or remotely via Zoom or FaceTime.
We have developed a contactless pick up & drop off procedure for dogs in our Puppy Day School program. Here is a video of the process: https://youtu.be/vT7cetJMyZc (In line with RI's latest guidance for small businesses, and because our disinfectant has a 5-minute contact time, we are now sanitizing the gate intermittently during pick-up and drop-off rather than after every single client. Hand sanitizer is provided in a squeeze tube hooked to the drop-off pen if you would like to use it before returning to your vehicle or handling your belongings.) As of May 2021, we continue to handle all pick ups and drop offs in this manner. Our team members are still completing their vaccinations, and we plan to reassess this procedure when all of our team members have had the opportunity to become fully vaccinated.
Retail
Our retail store is open to the public Monday through Friday from 3-6:30PM. Please abide by posted capacity limits. We also offer online shopping for you to browse from the comfort of your home!
We have a wide variety of chews, food-dispensing toys, treats, and training gear to help keep your dog busy while you work from home. Need help choosing products? Text us at 401-330-5892 – we're happy to chat with you about your dog and help you pick out some goodies!
Curbside pickup is available for all orders.
Get in Touch
We're still eager to help you with your dog! However, we are experiencing unprecedented demand for our services. Please schedule a phone call – it eliminates phone tag and ensures we're reaching you at a good time to discuss your dog's behavior and your goals for them. All of our program details, including tuition prices, are on our website – no surprises here.