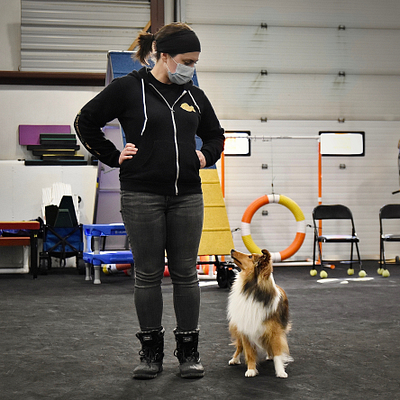 We have an update to our previous COVID-19 policies based on the latest executive order.
Mask Policy
In alignment with the executive order going into effect on Monday, December 20th, all customers must wear a mask when entering Crossbones. This includes the retail area when picking up or dropping off dogs for daycare programs. If you are unable to wear a mask, we continue to provide curbside service for pick up and drop off.
Clients who are here for a group class or private lesson may, at the start of the appointment, show proof of vaccination to their instructor, then remove their mask. We are accepting all forms of "proof of vaccination" as allowed by the state – currently, that includes paper vaccine cards, photos of vaccine cards, and "vaccine passport" phone apps.
We are not going to be tracking or storing COVID-19 vaccine information. Please be prepared to show proof of vaccination at every appointment you attend if you'd like to lower your mask.
Crossbones has long required masks for unvaccinated employees and will continue to do so. If you see a Crossbones team member maskless, rest assured they are fully vaccinated.
Social Distancing
If you've never been to Crossbones before, you should know that we have always practiced social distancing – it sets dogs up for success! You will always be more than 6' away from other attendees while participating in class here, and usually much further away than that.
Respect Our Team
Last but not least, we recognize that people have different opinions about vaccines, mask wearing, and state policies. Opinions aside, the executive order is out of our hands and we must comply with it. Please treat our team members with respect if they ask to see your proof of vaccination.
Any Questions?
If you have any questions about this policy, please don't hesitate to contact us.