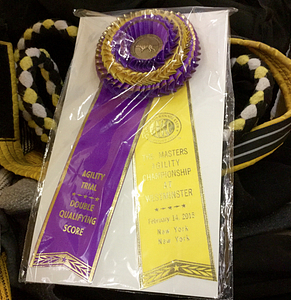 On Saturday, February 13th, Strata and I will be returning to the Westminster Kennel Club Masters Agility Championship in New York City!
We had a great time last year, earning two clean runs and finishing in 8th place in the highly competitive 16″ height class after the first two rounds. Because of the way the televised Finals round is structured, we did not get to move on because another Shetland Sheepdog had qualified ahead of Strata – but we knew the rules going into it, and had a great time anyway.
As WKC explains,
"The competition is divided into five height classes – 8, 12, 16, 20 and 24 inches, which refer to the height of the jumps in that class. Dogs compete in the class appropriate for their size. At Westminster, each dog will compete in two qualifying rounds – a Standard Agility course and a Jumpers with Weaves course. Scoring for eligibility to the Championship round will be the combined actual running time of both runs, plus any faults (refusal/run-out, wrong course, table fault, failure) and course time faults. Dogs will be placed in order of the lowest combined score within their true AKC jump height. The ten dogs from each height class with the lowest combined scores will move on to the televised Championship round Saturday evening, creating a field of 50 finalists competing for the coveted title of Westminster Kennel Club Masters Agility Champion.

The championship course will be a hybrid of the qualifying rounds and will be run as a 'time to beat' course, where the first dog will set the baseline time for the subsequent competitors."
The televised finals round will be aired on Sunday, February 14th at 12PM EST on Fox Sports 1. (Watch it with your valentine!) For more information about television coverage, visit the Westminster Kennel Club website here.
This year, Strata has moved down to the Preferred 12″ height class since he is turning 9 this year. I'm eager to see how he fares in this different division. We had such a fun time last year – here's the compilation video I made with our pictures and video:
[embedyt]http://www.youtube.com/watch?v=Ebs7bLqiR2s[/embedyt]