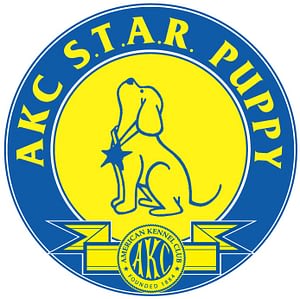 Are you a responsible puppy owner? The American Kennel Club's STAR Puppy program is designed to reward owners who take their puppies to training classes. "STAR" is an acronym for the four critical parts of puppy raising: Socialization, Training, Activity, and Responsibility.
The AKC recognizes that well-trained puppies make better companions and are less likely to be relinquished to shelters. In fact, behavior problems are the #1 reason for giving up a dog to a rescue. The STAR Puppy program is an incentive program for responsible puppy ownership. Working towards this goal will give you and your puppy a head start toward a lifetime of great behavior.
In order to be eligible for testing, puppies need to attend at least 6 group dog training classes with their owner. The program is open to all puppies up to one year of age, regardless of breed or mix.
Once your puppy has attended at least 6 classes with us, we can test your puppy immediately after any of our Flex Classes. It doesn't take long, and many of the test items can be observed during class time.
STAR Puppy Test Items
The STAR Puppy test consists of "20 Steps to Success," a total of 20 test items. The first six are owner behaviors, and the other 14 are puppy behaviors. The items are:
Owner Behaviors
1. Maintains puppy's health (vaccines, exams, appears healthy)
2. Owner receives Responsible Dog Owner's Pledge
3. Owner describes adequate daily play and exercise plan
4. Owner and puppy attend at least 6 classes by an […]