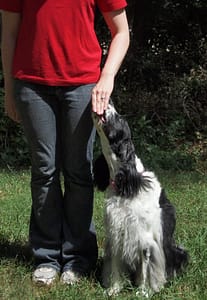 Be sure to pick a training treat that your dog enjoys!
At last, here is my written answer to the number one question I receive from owners learning to use clicker training with their dogs… what makes a great training treat? Here are the things I tell my clients to consider when choosing treats to use while training their dogs.
Size
You will be using a lot of treats when training your dog. In order to avoid weight gain, cut your treats into the tiniest pieces possible. My rule of thumb is that treats should be no larger than the size of a pea; for itty-bitty dogs, the treats should be half that size. I can tell you that there is no commercial dog training treat on the market that I have found that is small enough for training. I buy the usual "training treats" like Zuke's and soft Tricky Trainers from Cloud Star and break them in half. Any soft treat can be cut into smaller pieces.
Texture
As a general rule, I do not use crunchy treats when training my dogs, and I suggest that my students avoid them too. Crunchy treats make a mess and encourage your dog to sniff the floor and hunt for crumbs, taking their attention from you. Dog biscuits are okay as an occasional snack, but leave them out of your organized training sessions. Soft treats are much easier and faster for dogs to chew.
Every once in a blue moon, I do encounter a dog that strongly prefers crunchy treats to soft ones! For those dogs, biscuits made for "small breed" dogs and freeze-dried treats tend to work quite […]