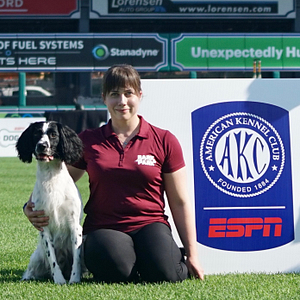 Are you brand new to the sport of dog agility? Do you live near Providence, Rhode Island? Great! You're in the right place. 
I'm Katherine Ostiguy, the co-owner and head trainer at Crossbones Dog Academy. I have competed in and coached the sport of dog agility for over fifteen years. I teach agility classes for all experience levels: from total newbie to national-level competitor. And I love introducing people and dogs to this great activity!
Over the years, I've developed a very specific system for introducing dog owners to the sport of dog agility. My Intro to Agility class is a natural progression of the manners skills we teach in our Flex Class program. As a result, this class has very specific prerequisites.
Agility Class Prerequisites
Dog agility is a fast-paced sport. It requires a lot of focus and attention from our dogs. A well-trained agility dog is listening closely to their handler and taking in a lot of information. As a result, it's imperative that your dog can listen to you in a distracting environment, like a dog training class.
To succeed in Intro to Agility, your dog must be focused on you with other dogs and people running around. Training your dog by yourself isn't a substitute for attending group manners classes.
A preview of some of the skills we teach in Intro to Agility at Crossbones!
Prerequisites for Students New to Crossbones
If you've never taken group manners classes with your dog before, our Flex Classes are the right place to start. You'll need to attend at least six classes before taking Intro to Agility. The more classes you take with us, the more successful you and your dog will be when you start agility.
If you took group classes elsewhere, did you learn clicker training? All students in our agility program must be fluent in using a clicker to teach new behavior and perfect existing behaviors. If you or your dog haven't clicker trained before, you can learn that in our Flex Class program.
If you and your dog have done clicker training together and your dog is listening to you in a group class atmosphere, awesome! You're on the right track. We still require new students to our program to take Orientation and at least two Flex Classes here at Crossbones. This ensures that your dog is comfortable working in our building, and gives our trainers an opportunity to make sure your training skills are at the right level for you and your dog to be successful in Intro to Agility. Our trainers will determine if you're ready to start agility training after those two Flex Classes or if you have holes in your training foundation that need to be addressed.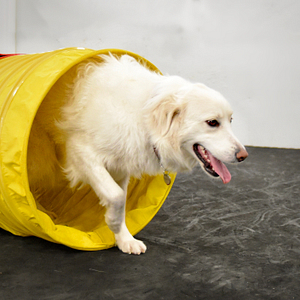 In a nutshell:
If you've never taken group dog training classes before, attend Orientation and 6+ Flex Classes.
If you've taken group dog training classes before but have not clicker trained your dog, attend Orientation and 2+ Flex Classes. Our trainers will assess your readiness for Intro to Agility at that point.
Prerequisites for Crossbones Students
If you've taken group classes at Crossbones before, we do require that you take at least two classes in the two months leading up to Intro to Agility. We want to make sure that your dog is still on their best behavior in our building and hasn't picked up any undesirable habits such as barking at their classmates.
To summarize:
If you're actively taking classes at Crossbones, make sure you attend 6 or more before Intro to Agility starts.
If you took 4 or more classes at Crossbones, but it's been more than 2 months since you were last here, attend 2 more Flex Classes before Intro to Agility starts.
Is your dog crate trained?
In weeks 4-6 of Intro to Agility, we have exercises where one dog is working off-leash in a section of the classroom while everyone else watches. For safety, your dog will either be crated or behind a visual barrier during this time. While it isn't mandatory, it's much easier for you to watch what is going on if your dog is crated.
Crating is an essential part of progressing in the sport of agility. In all advanced agility classes, dogs are crated when it isn't their turn to work. Dogs also need to settle quietly in their crates while you learn the order of a course or how to perform handling maneuvers.
Consider Private Lessons
Do the prerequisites for Intro to Agility seem daunting? Or, perhaps Intro to Agility doesn't fit into your schedule? You can also learn about dog agility by taking private lessons with me. The requirements for private lessons are:
Your dog is up-to-date on their rabies, distemper, & parvo vaccines
You are fluent in clicker training (take an Orientation class without your dog if you aren't)
Your dog is not aggressive towards strangers or leash-reactive to dogs from a distance of 10'+
That's it! Intro to Agility is a more cost-effective way to get started, but private lessons are another option. My availability varies, but I generally have openings 2-4 weekdays each week.
You can schedule a private lesson with me online (scroll to the bottom).

You never know where the journey will take you! The 2022 USDAA New England Regional Championships podium was a Crossbones clean sweep: in first place, Crossbones co-owner Daniel Lombard with Anthem (his very first agility dog); in second place, Crossbones co-owner & agility instructor Katherine Ostiguy with Spark; and in third place, Katie Rogers with Switch (a Puppy Day School alum). Katie first took our Intro to Agility class in 2013!