There are some wonderful resources available for owners of reactive dogs who want to learn more about helping their canine companions. Many of these books have training plans that can be used to rehabilitate reactive dogs. However, I strongly urge you to seek professional help from a trainer or behaviorist who uses only humane, pain-free methods of training. Any graduate of Karen Pryor Academy will meet that criteria.
Books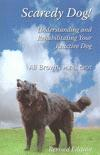 Scaredy Dog! Understanding and Rehabilitating Your Reactive Dog by Ali Brown. I feel this is the most user-friendly of the three books I list here, and the one I recommend most frequently to my clients. It is short, sweet, and to-the-point, but contains a ton of valuable information and plenty of photographs, which are useful for visual learners like myself. Ali encourages the reader to approach their dog's reactivity holistically, looking at the entire picture: not only the dog's behavior, but also his diet, exercise, mental stimulation, and other facets of day-to-day living. Dogs don't live in a vacuum! Every moment counts, and you need to examine your dog's lifestyle to be sure you are making the maximum progress.

Click to Calm – Healing the Aggressive Dog by Emma Parsons. Full disclosure: Emma was my Karen Pryor Academy instructor and mentor, so I know her personally. This book is excellent, because it contains step-by-step training recipes for skills that reactive dogs need to learn. I appreciate that it also addresses the human's behavior, because many times the owner inadvertently contributes to the dog's reactivity through actions such as tightening the leash or changing their tone of voice. Click to Calm is primarily geared towards dogs that are reactive towards other dogs, though there is one chapter that addresses dog-to-human aggression.

Control Unleashed – Creating a Focused and Confident Dog by Leslie McDevitt. This is my personal favorite of the three books. That being said, it was written primarily for owners interested in dog sports, like agility and flyball, and as a result, I find it overwhelms some pet owners. I use a lot of the CU foundation behaviors with all dogs and puppies I work with, like "Look at That", which encourages dogs to look at strange things to earn reinforcement, as well as mat work. I recommend CU more often to motivated owners who think they might like to try dog sports or therapy work than I do to owners of reactive dogs.
DVDs

Calming Signals: What Your Dog Tells You by Turid Rugaas. I mentioned Turid's book in my previous post, but I feel that the DVD is an even better choice because you get to see the behaviors as they happen, in context with other body language signals. All dog owners could benefit from watching this DVD, but reactive dog owners need to be particularly aware of calming signals so they can read their dog and prevent a reaction whenever possible. Dogwise sells the book and DVD in a combo-pack for added savings.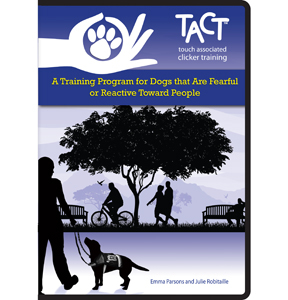 TACT: A Training Program for Dogs that Are Fearful or Reactive Toward People by Julie Robitaille and Emma Parsons. This program is geared toward dogs that are reactive, fearful, or aggressive toward humans, but many of the exercises are useful for dogs who have issues with other dogs, too. There is a handy workbook to go along with the DVD, too.
Websites
Reactive Champion is one of my all-time favorite blogs. The author, Crystal, has a reactive terrier mix named Maisy, and this blog eloquently details the trials and tribulations of working with a reactive dog. Her goal is for Maisy to become an obedience champion, so it also documents ways to teach obedience behaviors positively. I recommend this blog to clients who are having a tough time coping with the idea that their dog is somehow "abnormal". Crystal has written about many topics that are of interest to reactive dog owners, including post series on medication, supplements, and seminar reviews. You can find those posts in the "Best Of" section of her blog.
Fearful Dogs has some excellent articles on working with dogs that are particularly fearful — not all reactive dogs are fearful, but those who are seem to often have the longest road to recovery. This site's author rescued a dog from a hoarding situation and in addition to sharing her own dog's tale, she has created some great resources for owners of fearful dogs. My particular favorite is this series of YouTube videos she created.
Doggie Drawings is artist Lili Chin's collection of dog cartoons. This seems irrelevant, but she has created some spectacular posters and handouts on topics including "Body Language of Fear in Dogs", "The Do's and Don't's of Dog Training", and "How Not to Greet a Dog". She takes commissions for pet portraits and also has an etsy shop filled with fun magnets and calendars, most featuring her (once-reactive!) Boston Terrier, Boogie.