This started as an Instagram post but quickly exceeded 2200 characters, despite my best efforts to keep it brief! I hope you enjoy it. –Katherine
March 30th is always a special day at Spring Forth HQ. Today would have been Tessie's 19th birthday. Tessie is the dog in our logo and the reason I became a professional dog trainer. Without Tessie, there would be no Spring Forth Dog Academy.
From Humble Beginnings
We did everything wrong with Tessie for the first two years we had her. We were first-time dog owners and didn't know any better. It might be shorter to write a list of Tessie's behaviors that weren't a problem, but here were some of our struggles.
She would push open the front door to chase motorcycles. She snatched a hamburger straight out of my brother's hands. She chewed a huge chunk out of the bathroom door on her first Thanksgiving. She pulled like a freight train on leash. She whined anxiously in the car, occasionally escalating to high-pitched screaming. She barked out the windows at cats, birds, squirrels….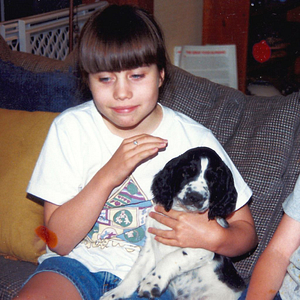 I begged my parents to take us to training classes because I had read about agility, and all of the agility classes required a basic obedience class certificate. When Tessie was 2, we signed her up for obedience classes at the facility closest to our home. The training style was punishment-based at best, militant at worst, but we made progress.
The Turning Point
At one of those classes, a woman was using a clicker to mark her dog's behavior. The dog was still on a prong collar, like all of the dogs at class, but seemed to be enjoying himself a bit more than Tessie was. I got a clicker at a pet store, found a few training articles online, and got started.
Holy smokes! Tessie was smart. In a matter of weeks, I taught her dozens of tricks…. back up, roll over, fetch, speak, hand targeting, and more. I wondered what would happen if I started using the clicker at obedience class, so I did. The result? Faster recalls, more attentive heeling, closer front position.
When we started agility the following spring, Tessie flew through the class levels thanks to the clicker training I had done with her. I continued to take competition obedience classes with her but ran into a road block: the stay exercises.
Tessie would never move out of position during the stays, but would whine like a teakettle the entire time. My obedience instructors with decades of experience had no solution. "You could try a shock collar, but even that might not work."
So, we stopped taking obedience classes to focus on agility, and entered our first trial. We were woefully unprepared and struggled with the environment, but I was hooked. For five years we competed at local trials, learned a ton, and earned some titles.
What I Learned
I could write an entire book about all of the lessons I learned from Tessie, all of the things I did wrong, and how I fixed many of them. When you're a teenager who doesn't come from a "dog family," you get a lot of judgment (which sucks) and unsolicited advice (which almost always sucks). I think the most important things I learned were:
1. Only your opinion of your dog matters.
My early obedience instructor told my mother that we'd missed the boat and since we waited so long to train Tessie, she'd never do well in dog sports, and that we should just get a puppy and start over.
This is utter hogwash. It was a convenient excuse to cover the instructor's lack of knowledge of how to address Tessie's whining during stays. If your trainer doesn't think your dog is awesome and isn't coming up with constructive solutions for your dog's challenges, get a new trainer!
2. It's intensely satisfying to stick it to people who say "you can't," and I recommend doing it as often as possible.
"She's just a pet dog, she'll never win anything."
"You can't train an obedience dog with positive reinforcement, they need corrections."
"You can't make a living training dogs."
"You can't run a business, you're too young."
"You can't be successful if you don't go to college."
Tessie won her competition obedience debut with perfect stays, which I retrained using that clicker that everyone said was only for tricks, not for obedience. She never lost a point on a stay exercise during her entire career. At Tessie's final obedience competition, showing in Veterans, the other dog got up and started humping her during the sit-stay exercise. Tessie didn't move a muscle. Not bad for a cookie pusher. She also went on to become the first English Springer Spaniel to earn a weight pull championship, a sport she adored.
As for all that other negativity, I think Spring Forth's success speaks for itself. We have a team of six full-time trainers and assistants, so not only am I making a living training dogs, so are several other people! Since 2010 we've trained over 500 dogs to be more awesome, no physical corrections required. No pain, lots of gain.
Thank You
Thank you, Tessie, for lighting a fire in me that will never go out. I am forever inspired to help others avoid the mistakes I made with you and gain the enjoyment you gave my entire family for fifteen years. Be good, moo-cow dog.